Dear Vera, I'm a fan
---
---
Rule of Law presents an open letter from Professor John Morijn to EC Vice President Vera Jourova.
---
---
Your excellency Madam European Commission Vice-President Jourova,
Dear Vera,
I am writing to publicly express my full support and admiration for your work to protect the rule of law in Poland.
I hope you don't mind my informality. This I allow myself because – although you don't know me personally – we actually have a particular type of intimate relationship. You are a politician representing me as an EU citizen. You represent me because your nomination for European Commission Vice-President responsible for the rule of law was approved by the majority of the democratically elected European Parliament, for which I of course voted. I allow myself the most respectful 'Vera' too because, even if your mandate is often erroneously presented as a somewhat foggily unfocused endeavour, protecting the rule of law is in fact both practical and actionable, as well as most personal. A final reason for my phrasing will perhaps surprise you. Because I imagine you don't often (enough) receive what this letter boils down to: fan mail.
Why this fan mail now? We were recently both in Poland on the same two days, Monday 27 and Tuesday 28 January. We were both there to discover in what way(s) the rule of law is under threat in this beautiful EU Member State, what could be done to help protect and restore it, and to report back to others about what we saw. I decided to report back to you, too.
You attended the Auschwitz 75th Liberation Anniversary ceremony on Monday, where the message was that we should learn from past mistakes. In particular, Mr. Marian Turski stated powerfully that we cannot be indifferent.
On Tuesday you had discussions with various rule of law actors in Warsaw, such as the leaders of the Senate, the Minister of Justice, the Ombudsman as well as the Iustitia association for judges.
I read how you diplomatically described the meeting with Justice Minister Ziobro as a good "dialogue." But we both know that the listening and respect necessary for a good-faith conversation was not reciprocated. We both know that you are rightly worried and fed up with the destructive actions and tactics of the Polish government that represents a part (in fact: a minority) of Poles.
For you it is different. Under your mandate you represent all Polish EU citizens. You recently swore an oath in front of the Court of Justice to act to defend the values laid down in the EU treaties, including the rule of law. Your challenge with regard to Poland is clear. I don't envy you, but do have every confidence you will act effectively in line with your oath and own democratic mandate.
I came to Warsaw myself for the second time in two months. In my case it was, first and foremost, to show solidarity with a fellow academic, Wojciech Sadurski. Professor Sadurski is a very distinguished constitutional law scholar who is facing multiple cases brought against him by the Law and Justice party and a TV station it controls.
These politicians and media companies, usually not so shy as to avoid using strong language themselves, claim they were insulted by some critical tweets written by Sadurski. Their clear aim is to limit his free speech, muzzle him in the same way that judges will be muzzled if President Duda signs the wrong-headed law. If you want to know more about the cases against Wojciech Sadurski, just search for #WithWoj. Over 800 academics worldwide and numerous academic associations and NGOs have expressed their support for him. His trial scheduled for 28 February was cancelled at the last moment. Creativity in destructiveness knows little boundaries. The strategy is clearly sue-to-scare in an abrasive effort to silence a critic. And Wojciech Sadurski, you should know, is far from the only one.
When in Warsaw I also spoke to several other academics, judges and lawyers defending the rule of law in Poland. I won't mention them publicly here because – you and others reading along will still find it hard to believe I am describing the situation in an EU Member State – that may put them at (further personal) risk. I asked them: what do you expect from the EU? How could it make a (bigger) difference (sooner)?
What they told me is that they need the EU to act more tangibly and practically, now. The EU needs to practice in reality what it preaches in the abstract when it comes to protecting the rule of law. It needs to help change the calculus of PiS and proxies and make its current "strategy" to undermine the rule of law in Poland a lot less effective. And, in fact, it can do this based on its current powers.
The EU needs to declare that it will guarantee funding and arrange for physical security for NGOs that document and tell us what is going on in terms of democratic backsliding with a full understanding of the Polish context.
The EU also needs to offer and practically provide physical security for lawyers and judges who defend the rule of law. They are doing that for us, EU citizens, as EU judges and lawyers working to apply what are EU legal principles. And they are now not only suffering many disciplinary measures, for which they have to hire lawyers to fight back. Sometimes they are even personally threatened. The EU needs to step in here.
The EU could also offer to fund the legal defence in clear cases of harassment against other defenders of the rule of law in Poland, such as against academics and public intellectuals like Wojciech Sadurski.
All of this would neutralize a major source of the de facto effectiveness of the PiS harassment campaigns against everything and everyone standing in its way: that it has unlimited resources itself, while those it wants to silence need to foot their own bill, and may eventually opt to tone down for practical (inequality of arms in financial terms) rather than principled reasons.
And frankly, all of this would be peanuts in financial terms for the EU. Yet it would be huge in impact and message. If you wanted to make it more confrontational (and I wouldn't blame you), you could add that the costs incurred by the EU in taking these steps will be deducted from EU funds normally earmarked for distribution to Poland.
After all, these funds cannot be securely distributed without a functioning rule of law. And that rule of law in Poland is protected by the judges, lawyers and critics that are currently persecuted and threatened by the PiS government.
But that is not all. What emerged from my conversations is that you have more options to act on your mandate. As you know, authoritarians trade in symbolism. You and I are reasonable and rational people, not naturally at ease with considering the deployment of the tools "they" use. But you should be aware that you actually do have such tools at your own disposal too, and could consider employing them if you see fit.
I respectfully suggest that this would actually be helpful in publicly exposing the intentional double-dealing of PiS vis-à-vis the EU.
Is it not strange at the current stage, for example, for Polish government officials to give their speeches in front of EU flags next to Polish flags? This is what President Duda did giving his Christmas speech, in which – as you will remember – he criticised Polish judges, who by their very nature are also EU judges. The visual message in such set ups is clear: we, the PiS-led government, consider Poland to be and want it to remain part of the EU. We are currently critical of it because they are giving us a hard time. But, in fact, we are just going through a rough patch in our marriage.
You could consider telling them: actually, PiS, that is not true. You are misbehaving badly in acting against both the letter and the spirit that that EU flag stands for. And as long as you do so, you will sleep on the symbolic couch. You could communicate that by telling PiS publicly it is no longer appreciated that they use the EU flag in any of their events. Based on what its representatives do, the Polish government is not currently worthy of association with the EU flag – but they remain, of course, most welcome to make up and act in accordance with the practices and principles that it stands for. There is power in the EU flag, and you could make it clear that flying it needs to be earned.
After meeting each of these brave Polish rule of law warriors I thought it only appropriate to thank them as a fellow EU citizen. After all, Vera, they are fighting, often at considerable personal risk, on my behalf too. I did so by presenting them with a wooden carnation. I explained my gratitude to them with the following text on the back of an iconic picture of soldiers during the Portuguese revolution: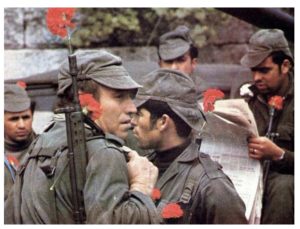 "Protecting the rule of law in Europe is always practical and concrete
Benefiting from the EU's free movement I first learned this in Portugal
There the carnation became a symbol of peaceful transition from autocracy to democracy on 25 April 1974
Shorthand too for personal courage in the face of adversity and risk
The Dutch are famous both for flowers and for being stingy
Producing wooden Portuguese carnations sums us up quite well
In this case that European cooperation has a powerful silver lining
It illustrates that the carnation cannot, and will never go bad
With gratitute, JM"
I saved one of these gifts. I put it in the mail today – it is on its way to you. That's what fans are for.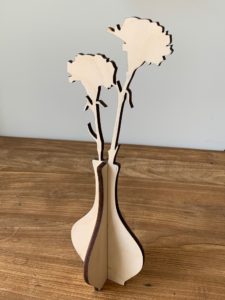 We both know that you have a fight ahead of you in delivering on your mandate to effectively protect the rule of law in Poland.
It is one thing you have to deal with uncooperative Polish government representatives who have a clear agenda directly at odds with the EU's basic principles and who will, if allowed to act on their agenda, take Poland out of the EU.
But I know too that not everybody amongst your fellow Commissioners is equally convinced of the importance and urgency of dealing with the rule of law crisis. Unlike you, they don't understand the foundational nature of the challenge. Unlike you, they don't relate to its personal character. Unlike you, they don't get how the rule of law in any place in the EU has a direct impact on the quality of liberal democracy everywhere.
I am aware too that even if a majority of the European Parliament to which you are accountable supports more powerful rule of law action, at this moment things in the Council of Ministers are blocked. Unlike you, many Member States that wax lyrically about the importance of protecting the rule of law in public say very little when this is discussed behind closed doors. Maybe this should also be made public, to help make (y)our fight public in these Member States as well.
It is easy to get disillusioned, to believe that this a legal battle rather than a political one. It is easy to continue to pretend that you are in a "dialogue," while you are doing the talking and the other side the continuing destruction.
I decided to write to you to say that there is no reason for sticking to just that. I decided to write to you to emphasize the monumental significance of what you already know – that a great majority of Poles remains overwhelmingly positive about the EU, logically including support for protecting its founding values.
I decided to write to point out to you that there are many (more) things that you can do now (yes: immediately), within your current powers and options, that will make your own intentions clearer and show you mean business.
You have every right – and if you don't mind my suggesting, you have an obligation based on the treaties you swore allegiance to – to do so. In fighting for compliance with the rule of law in Member States such as Poland you are representing a major, albeit as yet somewhat silent majority of EU citizens and a clear majority in the European Parliament.
This overwhelming majority of EU citizens emphatically wants to live in liberal democracies. They expect EU-level politicians such as yourself, who have been tasked with protecting the rule of law at a supra-national level precisely because history shows that it can easily be destroyed at national level, to fight for it on their behalf and confront those who undermine it using all tools at your disposal. That is the real us-versus-them issue in Europe today.
That's why I have your back. That's why I am your devoted fan.
I came to Poland to be #WithWoj. But I left it knowing that to do so, I needed to state this publicly too: I stand #WithVera. Everyone who refuses to be indifferent should do the same.
Yours sincerely,
John Morijn
NGIZ endowed professor of law and politics in international relations
University of Groningen, Faculty of Law, The Netherlands