Judges demonstrating across Poland: "We won't be intimidated"
---
---
Polish judges are again showing the government and the small number of collaborator judges that they will not be broken or be intimidated by disciplinary proceedings.
---
---
Demonstration of solidarity
In April 2019, judges demonstrated in 24 courts across Poland, taking group photos under the slogan "We won't be intimidated" and participating in a demonstration of solidarity with judges who are being attacked by the disciplinary spokesperson. Piotr Schab is an appointee of the Minister of Justice, Zbigniew Ziobro. Along with deputies Michał Lasota and Przemysław Radzik, he is pursuing dozens of justices for their criticism of the "good change" in the courts, independent verdicts, gatherings with ordinary citizens, and for wearing shirts bearing the word "Constitution."
As part of this campaign, judges are demonstrating their solidarity with judge Alina Czubieniak of Gorzów Wielkopolski, who was the first to be punished by the Disciplinary Chamber of the Supreme Court for a ruling she issued. PiS established this chamber as a means of quickly removing defiant judges, prosecutors, and lawyers from the legal profession.
Judge Czubieniak was punished for a ruling in which she sought to protect a disabled 19-year-old unable to read or write. The verdict was not, however, to the liking of Minister Ziobro, and the disciplinary case led to the judge being found responsible. The Chamber punished her with a rebuke.
This verdict outraged judges and the legal community around Poland, because the judge was punished for the content of a verdict, which constitutes a dangerous precedent.
Czubieniak spontaneously and harshly criticized both the conduct of the proceedings and the verdict of the Disciplinary Chamber in her case. This, in turn, led to the disciplinary spokesperson bringing another case against her.
This is why judges are demonstrating solidarity with justice Czubieniak. Because the same thing is already happening to other judges and may soon happen to more of them. The disciplinary spokesperson and his deputies have already shown their willingness to persecute judges on the slightest pretense.
The idea for a solidarity demonstration came from judges in Lublin, members of the Iustitia Polish Judges Association. At the beginning of April, they held a picket in front of the court, during which they showed their support for judge Czubieniak and other persecuted judges.
The idea caught on in other courts. Gestures of solidarity came from judges in Rzeszów, Łódź, Kraków, and even a small district court in Bartoszyce.
On 5 April the demonstrations were joined by judges from Bydgoszcz, Kętrzyn, and Olsztyn. Maciej Nawacki, president of the regional court in Olsztyn (appointed to the post by Justice Minister Ziobro) and member of the new National Council of the Judiciary, summoned the police on judges protesting in front of the court there. The Olsztyn judges refused to be terrorized.
More courts then joined in the demonstration: Gorzów Wielkopolski, Gdańsk, Gdynia, Poznań, Wejherowo, Kielce, Słupsk, Szczecin, Elbląg, Toruń, and Włocławek.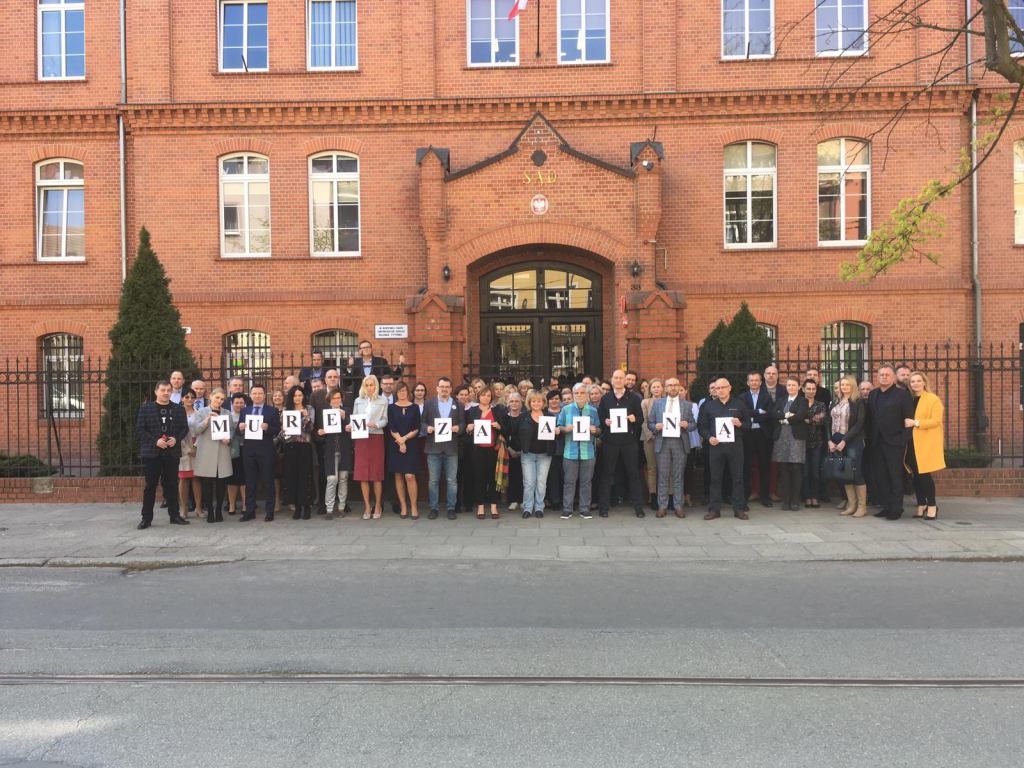 Judges in Gorzów Wielkopolski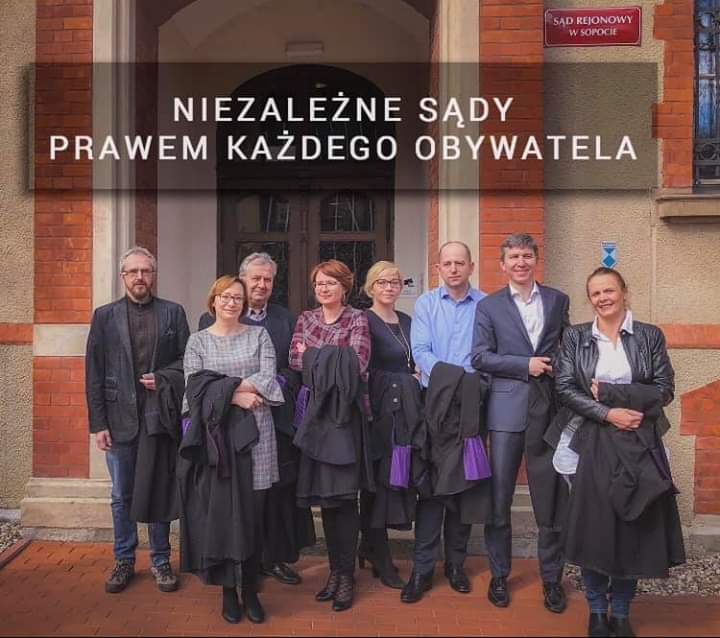 Judges in Sopot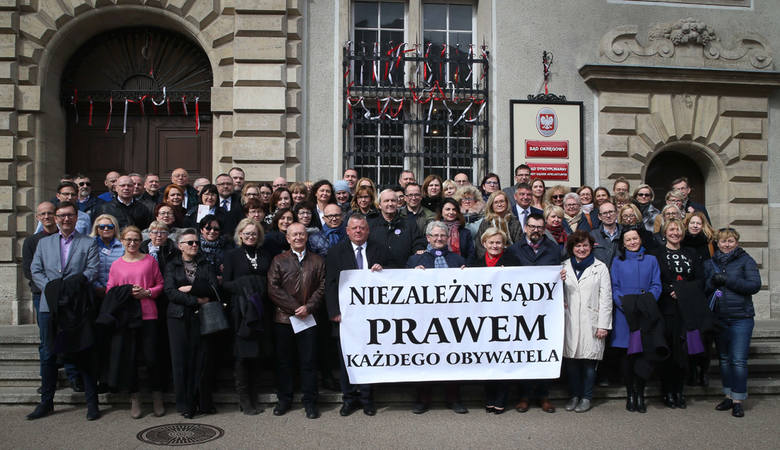 Judges in Gdańsk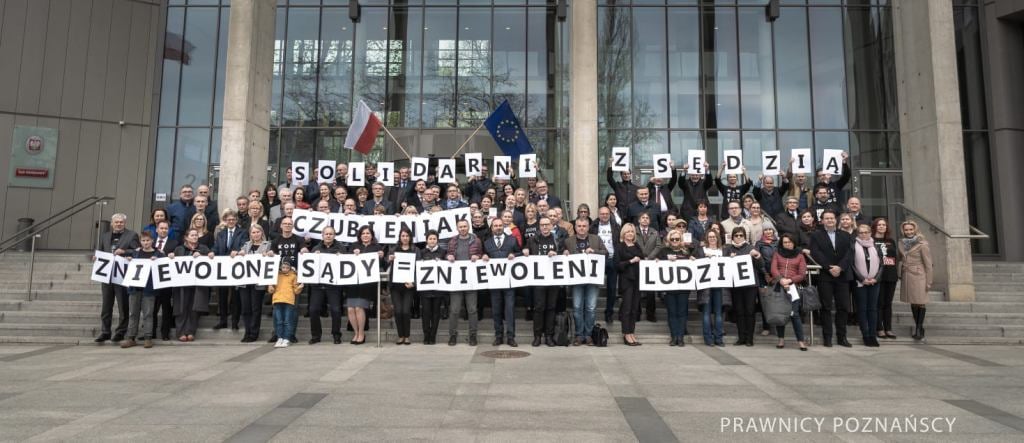 Judges in Poznań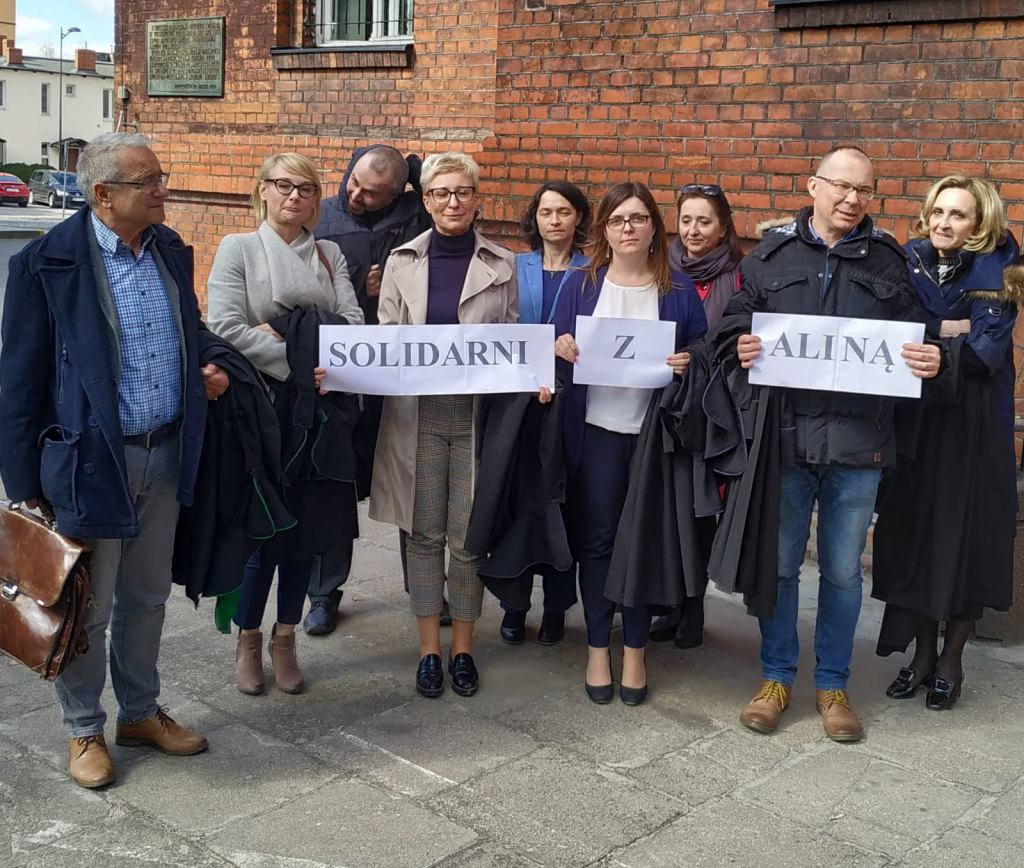 Judges in Wejherowo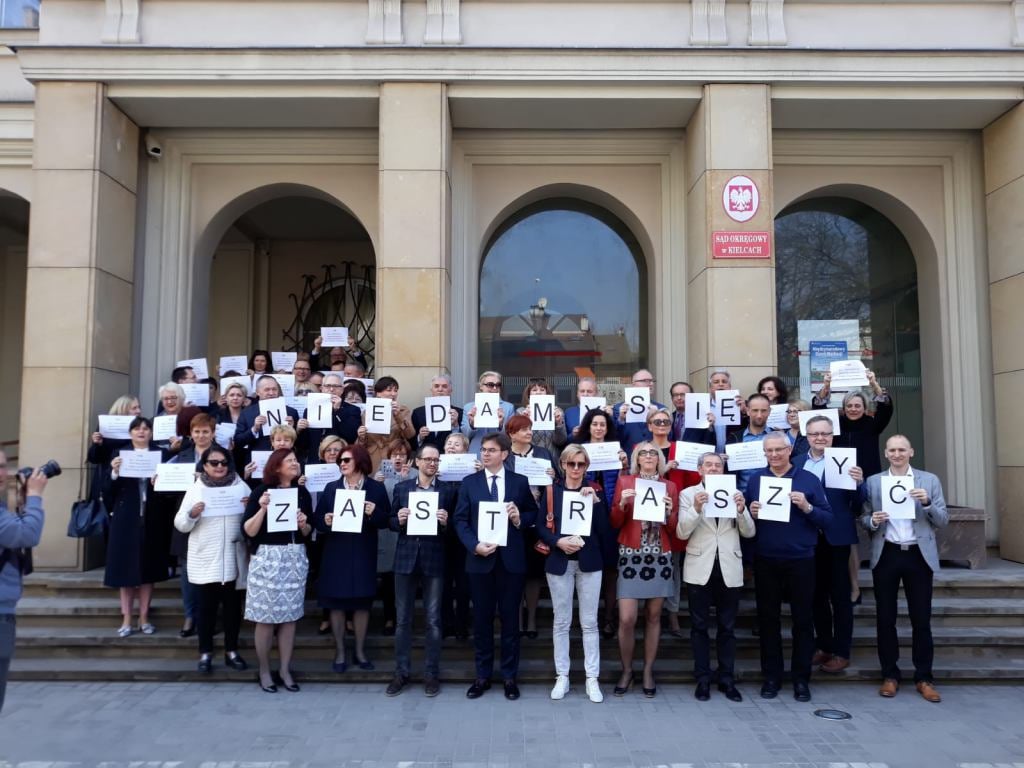 Judges in Kielce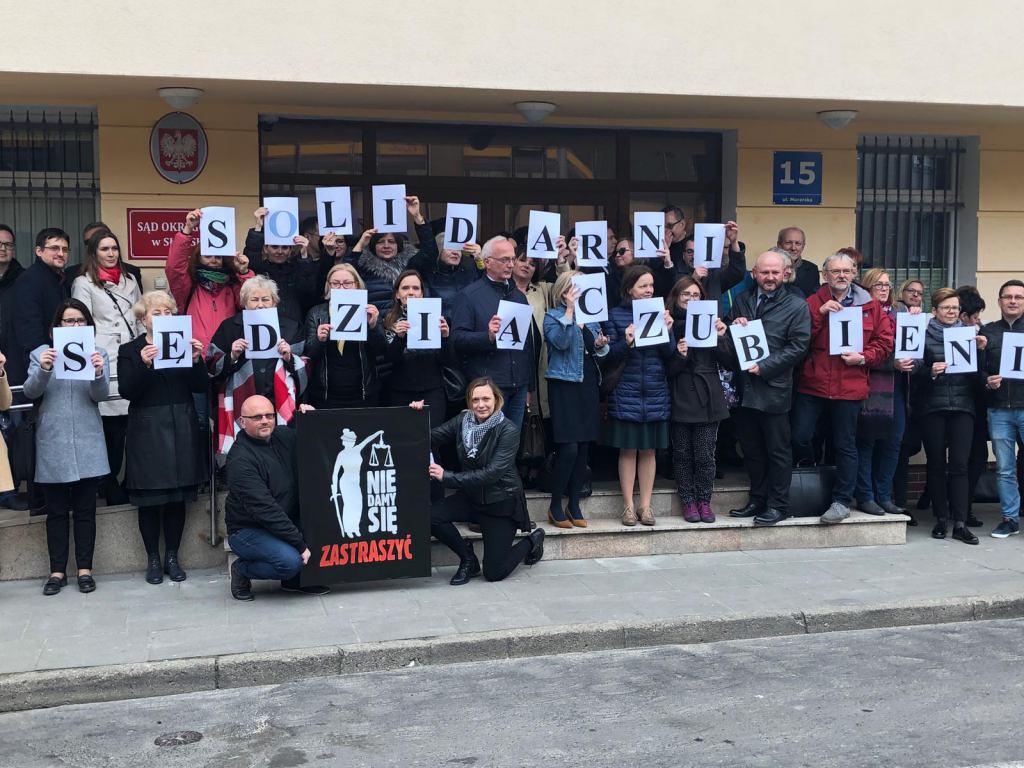 Judges in Słupsk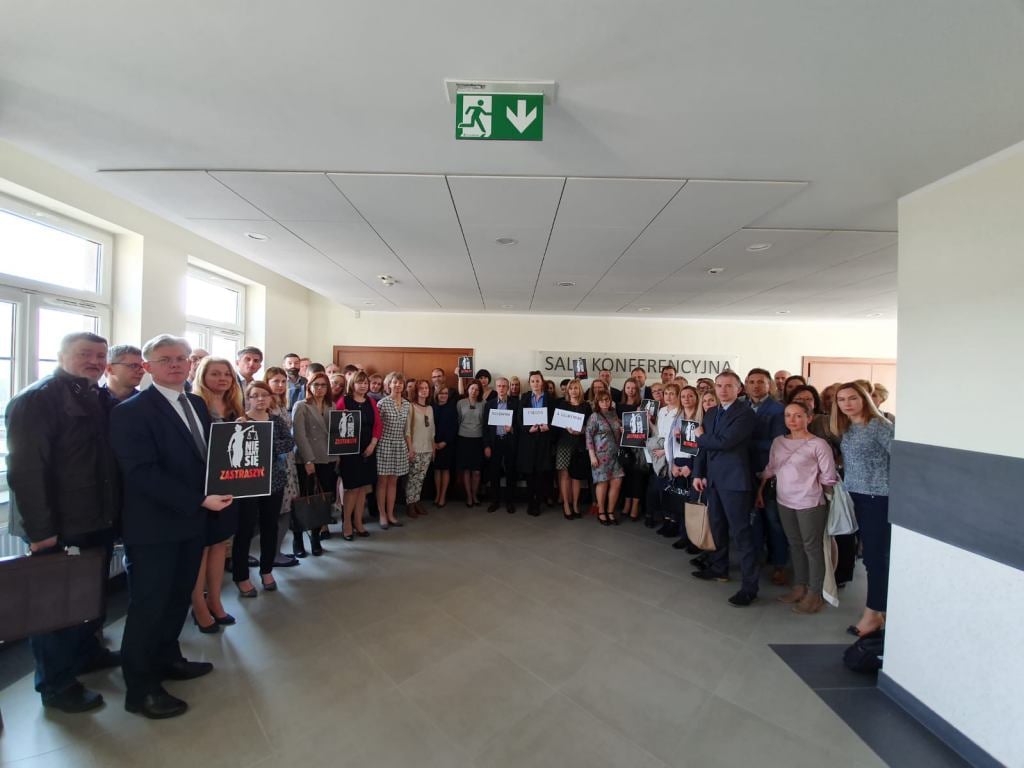 Judges in Szczecin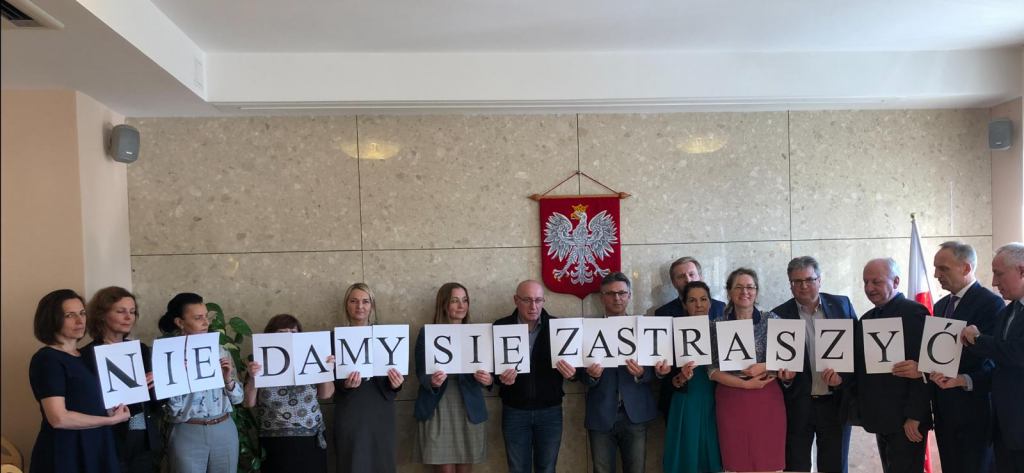 Judges from the Szczecin Court of Appeals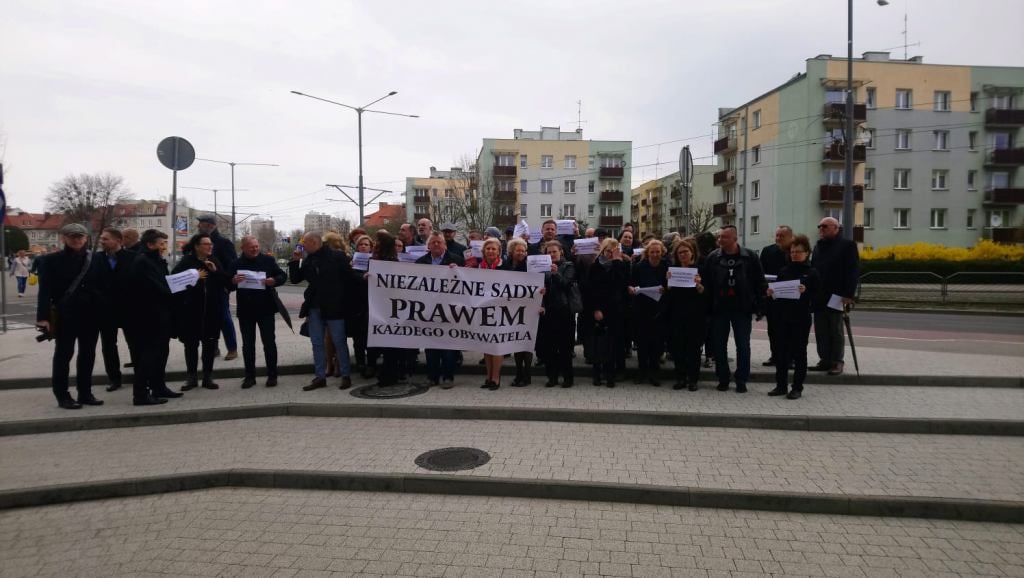 Judges in Elbląg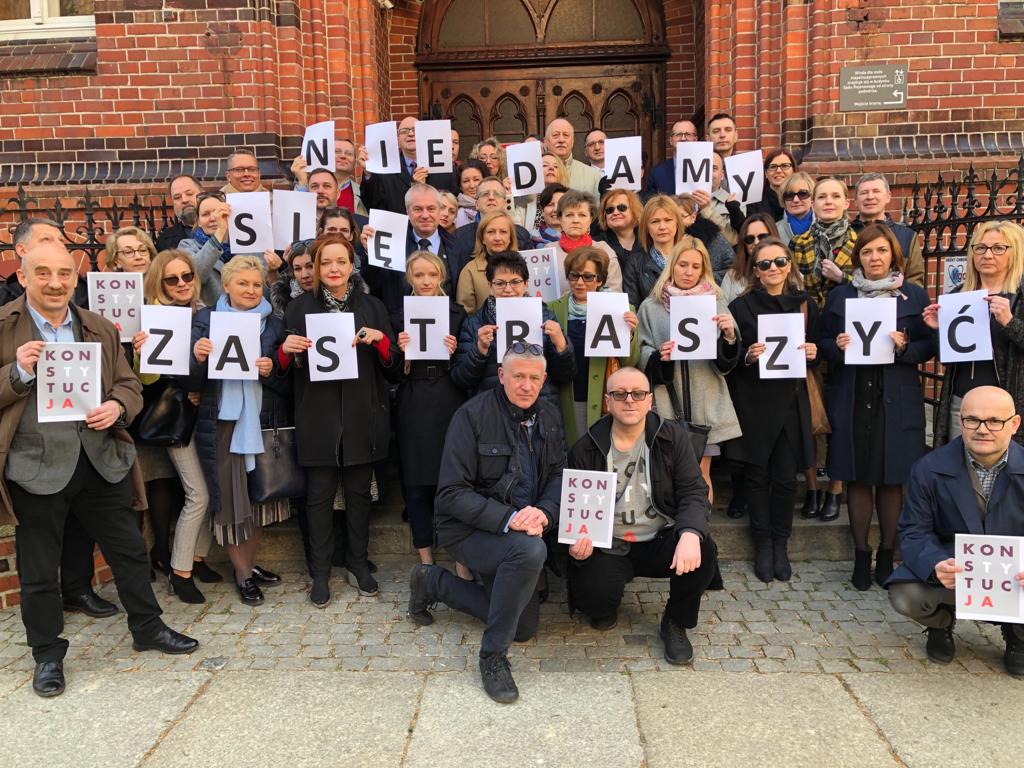 Judges in Toruń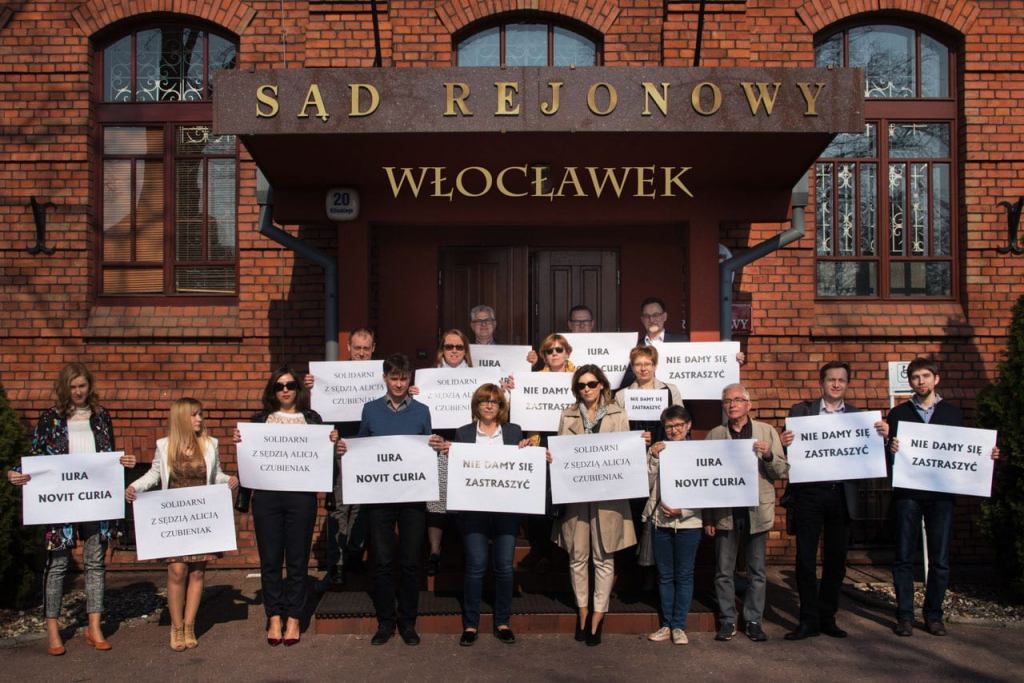 Judges in Włocławek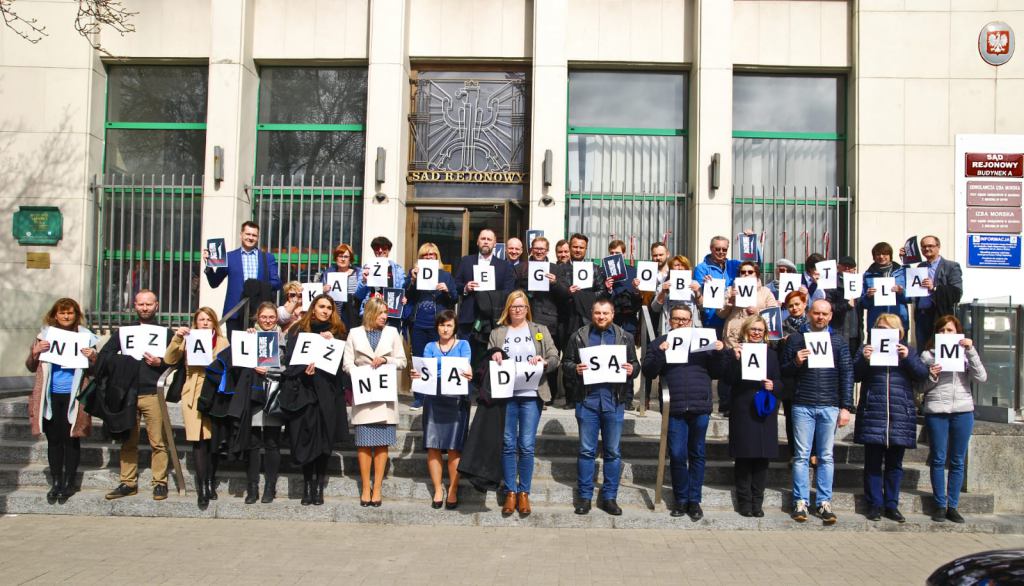 Judges in Gdynia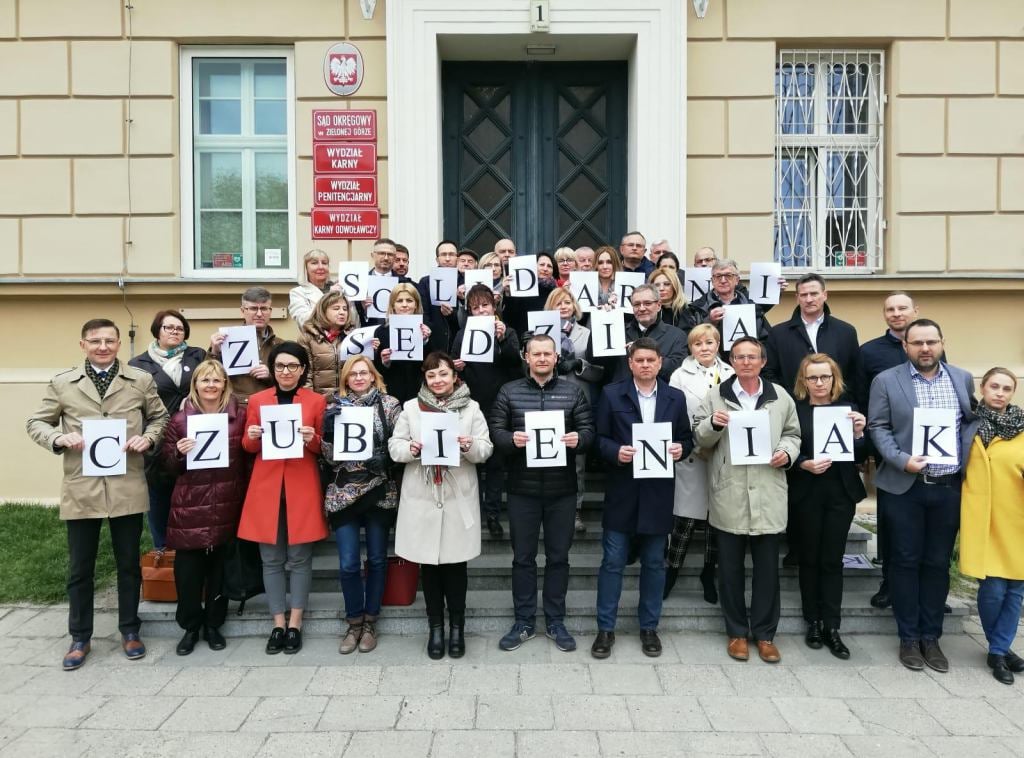 Judges in Zielona Góra
In total, 24 courts have already demonstrated their solidarity with the persecuted judges. Numbers of participants range from a few (in small district courts) to several dozen, and some group photos of solidarity feature over 100 judges.
Justices posing for photos are holding letters that compose slogans, as well as banners that read:
"We won't be intimidated"
"Constitution"
"Solidarity with judge Czubieniak"
"Independent courts the right of every citizen"
"Courts under control = people under control"
On Wednesday, 10 April, judges from the largest court in Poland, the Circuit Court in Warsaw, joined in the protests. They took a photo in solidarity, displaying two slogans: "We won't be intimidated" and "Solidarity with judge Alina Czubieniak".
On Friday, 12 April, judges from Zielona Góra demonstrated solidarity with judge Czubieniak, and on Monday, 15 April they were joined by justices from Katowice. The photo below taken in front of the Court of Appeals includes Krystian Markiewicz, the head of Iustitia, the largest association of judges in Poland.
[translated by Matthew La Fontaine]